Word Press is an online platform that hosts a diverse community of theme developers. You will not be dependent on web development companies.
There are countless site themes, for every niche in existence. Sports, gaming, business, corporate, travel, and learning management system sites can pay for cheap, affordable products that are sure to increase their chances of success. After a purchase is made, you will not have to worry about installation. The industry standard demands an astonishing degree of user-friendliness, as the community seeks to accommodate even those without technical backgrounds.
Learning management system master study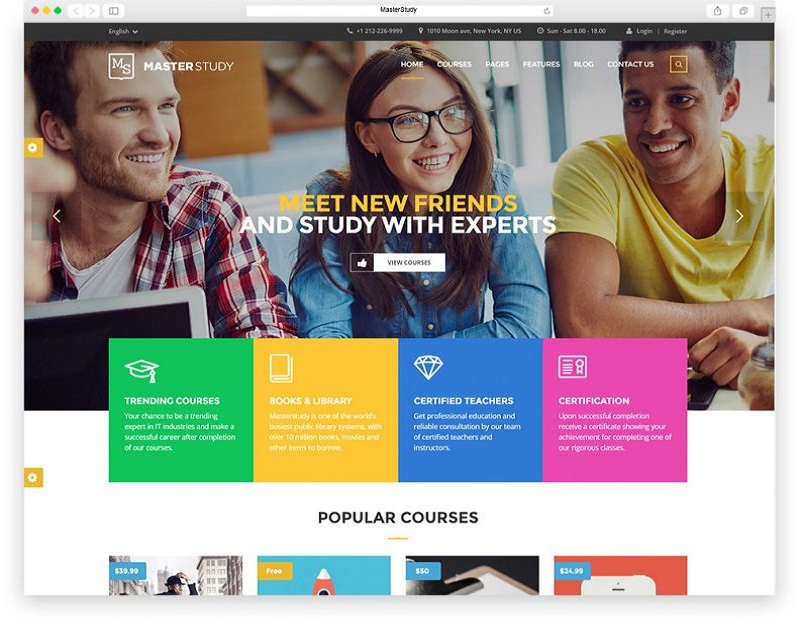 If you want to create an E-learning platform, choose master study Word Press theme. master study is specifically developed for learning centers and educational organizations. This theme is Word Press 4+ ready and built based on the latest Bootstrap and LESS technology. It has a one-click demo content importer that let users set up your own e-learning site with just a click. This theme comes with 690+ Google Fonts, custom sidebars and widgets, WPM Localization Support, Mail chimp Subscription plug-in and other fully functional features. Its theme options panel is powered by Re dub Framework that offers you tons of customization options. The theme offers four skin presets so you can select the colors that matches your site brand or business identity.
This theme enables you to create paid and free courses. Creating unique page layout is very easy because it is fully integrated with Visual Composer.  Its drag and drop fronted and backed page builder plugin is included in the theme to make creating website fast and enjoyable. Also, with Visual Composer you can create any page layout that you can imagine without touching a single line of code. You can choose between transparent and solid header style.
With the Revolution Slider integrated into the theme, you can create stunning slides with awesome animation effects. Master study is fully compatible with Woo commerce plugin, which make accepting payment really systematic and quick. Master study also offers an extended teacher profile template, where you can enter the information about every teacher. It also includes a review system that let students leave a review to any course they passed. Master study makes it easy for you to create new events and add a blog in your website. For more information about Master study theme you can read our review.
e Learning WP
e Learning WP is an incredibly thoroughly developed, thoughtful and amazingly tough and reliable, bright and fresh-faced, luminous and colorful, vibrant and very functional and powerful, technologically cutting edge, modern and engaging, dynamic and highly responsive WordPress Learning Management System website theme. e Learning WP is a carefully crafted theme that has been extensively developed in-house, deploying Them Press' own unique Learn Press Learning Management System plug-in to great effect.
Learn Press integrates with e Learning WP like no other LMS system and theme do, as they have been coded and developed side by side and with each other in mind, so e Learning WP is an incredibly cohesive and powerful LMS theme as a result, including features like a brilliant LMS Courses Management, complete with Units, Sections, Quizzes, and video documentation on how to actually pull that off yourself within minutes. Course Collections can combine individual Courses, Course Ratings are an option, Free Courses as well as PayPal, Stripe and Offline Payment Methods integrated for your utter convenience, with Woo Commerce as a shop solution or for directly selling your courses, Quizzes and Lessons Management with multiple media and question types, press for intro-instructor communications and Buddy Press for student-instructor communication, and so much more, it is safe to say e Learning WP is the best LMS theme on the market today.
Education WP
Education WP is an excellent Word Press theme that can facilitate the construction of informative websites.  It has incorporated Learn Press, which is one of the best learning management systems on Word Press. Learn Press is very easy to update or modify. Basically, users will be able to shape every aspect of their education site. Education WP is also cost effective. By simply purchasing this theme, you will benefit from 8 innovative Learn Press add-ons whose total cost reaches $250.
The design is highly-responsive, and it can showcase your content on any device. In addition, the website will be cross-browser compatible. Users may charge for their items or services via Woo Commerce, PayPal, or Stripe. Page owners are able to post various quizzes and courses, due to the Curriculum Manager tool. Students can easily find these courses using the precise Ajax search function. Site blocks can be moved around with ease, thanks to Drag and Drop technology.  Feel free to experiment with different customization options. However, many clients are too busy to start from scratch. The one-click installer can free your schedule by giving you the ability to import demo content such as pre-made posts, sliders, and pages. For those who prefer a tighter format, a one page site format was made available.
Skilled
Skilled is a serious and professional, fresh-faced and colorful, tech-savvy and extremely modern, readily responsive Word Press school, education and courses website theme. This theme has been devised as a strong ally for webmasters with or without previous development experience who are looking for a trustworthy, competent and capable platform for constructing functional, modern educational websites with sophisticated capacities for handling the importation of online courses in a range of academic or professional fields with seamless ease and efficiency, using a lightweight framework and an intuitive, user friendly visual approach with an incredibly high affectionate.
Invent
Invent is an amazing website theme that is compatible with any version of WordPress. The developers designed this theme to enhance any education website with its impressive roster of features. Invent has a distinct look and feel, that is sure to impress all potential students. It is obvious that countless hours went into the development of this theme. It is a distilled and streamlined version of other education web pages.
Although it is best suited for the improvement of University, School and College sites, it can be used for corporate, design agency and small business pages. This versatility is astounding, catering to many fields of activity.
This theme is entirely compatible with Learn Dash, a prolific Learning Management System (LS). However, you must purchase Learn Dash separately so that you can gain access to its page templates and personalized side bars. For more information about this feature, you can access the free theme demo. You can also read the extensive theme documentation source.
Lincoln
Lincoln is a powerful and cutting edge, technologically articulate and sophisticated, polished and professional, functional and feature-dense, well-structured and highly attractive and appealing, immersive and colorful, stylish and deeply well developed responsive WordPress educational multipurpose theme. Also, it's a smooth and potent theme that has been decked out with an incredibly powerful set of specific, narrow and relevant tools that are perfect for webmasters that want to quickly and effortlessly set up their own customized, visually stunning educational websites. With full-fledged Learning Management System integration capacities based ob Learn Dash out of the box, meaning Lincoln can quickly become the means through which you establish a powerful online based educational platform.
Additionally, this theme allows to effectively and reliably delivers educational content and material in an orderly and structured manner to your users, without having to write a single line of code, and with tons of flexibility for specific classes, courses or topics, subscription newsletters, account management system and everything else you expect from a complex and fleshed out LMS ready to enlighten the modern world. Lincoln is perfect for online programs for universities or community colleges, as well as professional, private or public Learning Center website projects or pretty much any website where dissemination of knowledge is key.
WPLMS
If you are looking for a high-quality WordPress Learning Management System, look no further than PALMS. With this innovative product, site owners can manage courses and organize the activity of tutors and students. You are also able to create and commercialize your courses on the internet.
In addition, it works by converting your traditional WordPress page into a learning management system. This is a collaborative effort, made possible by the inclusion of Press, Buddy Press, and Woo Commerce. PALMS is very adaptable and versatile, as it can support many useful plugins such as: My Cred point system, WP Coauthors plus, Badge OS, D Q&A, Pm Pro, and others. Also, the basic download will include a theme package that features 8 plugins, designed specifically for your website. Their goal is to improve your visitor's browsing and learning experience. For more information regarding this theme, be sure to check out its live preview. It will allow you to sample the most important features without having to spend a dime.
It is without a doubt that PALMS is a best-selling education theme, given that it was downloaded over 6900 times. You can also use the child theme added along with 4 distinct demos. The setup process only takes about 5 minutes, and requires a single click to initiate.
Education Press
Education Press is a colorful and fresh, visually seamless and very user friendly, tech-savvy and innovative, readily responsive Word Press online courses and classes website theme. It's a sophisticated set of powerful plugging, robust frameworks and convenient widgets and templates that come together to empower colleges, universities, specialized schools and all sorts of educational organizations to put together modern and impressive, fully functional online courses websites with the most cutting edge Learning Management System structuring your entire end-user experience, for both Instructors and Students alike.
EduLMS
EduLMS learning management system is a simple, stylish and fully customizable theme for WordPress websites. With this product, you are able to create a unique, personal website that matches your vision. It includes many personalized theme options, and a nifty custom menu.
Site owners can easily create countless lessons, courses, and lesson topics. EduLMS can act as an integral system for examination, where you can select passing grades, compose quizzes, upload entire lessons, and even ask students to upload their answers. In terms of aesthetics, every element is under your control, and you get to determine the overall look and feel of your page.
i Know
i Know is an impressive Learning Management System theme for WordPress websites. Its design is very stylish and charming, capable of attracting many interested students. Site owners are able to commercialize well-written, high-quality tutorials and online courses.
In order to conduct any internet-based transaction, you will need a stable and reliable platform. Thankfully, i Know has incorporated Woo Commerce, one of the most popular eCommerce plugins on WordPress. Also, it assures that customers can create an amazing online store, with little effort.
UOCE
UOCE, University of College Education, is a powerful and noteworthy, elegant and classy, modern and wholly flexible, incredibly intuitive and easily customizable, serious and professional, dynamic and engaging, interactive and attractive responsive WordPress educational and Learning Management System website theme. This theme is a cleverly coded and stylistically refined theme that combines the best and most advanced web development technologies currently available with the most classical, engaging and trustworthy educational visual layouts and presentations that will make your prospective students feel impressed and enticed to educate themselves through your UOCE website.
Clever Course
If you want to create a LMS (learning management system) website, look no further than Clever Course. It can be used for the pages of schools, colleges, universities, or any other kind of learning institutions. If your main objective is to write and distribute online classes, Clever Course can improve your bottom line. You can split online courses into distinct sections. Also, you may quiz your students.
This theme tries to accommodate both customers and their site users. Supported payment methods include Stripe, PayPal, Pay Mill, and Authorized.net. Direct bank transfers are accepted if the user contacts a site administrator.  You can provide your student Official Course Certificates as proof of graduation.
Site owners have full control over their business. They can adjust commission rates for both instructors and users. You also get to determine how many times a course can be retaken, before the student fails it.If you do not know where to start, the easy demo importer can provide excellent content. It can give you an idea of how to organize a site, and it can act as launch platform for further improvement. In addition, the Limitless Page builder can generate a limitless number of pages.
Guru
Designed for Learning Management System (LS) services, Guru is a very versatile WordPress theme. It makes use of Sense, Woo Commerce, Buddy Press, WPM, Event Calendar, and Mail-chimp. You can find every tool required to create your own successful online course with Guru. It has extended user profiles, quiz systems, lesson management, video hosting, question systems, rating and ranking systems, and a several attachments.
LMS Press
Developed by an elite author, LMS Press is an innovative learning management system theme for Word Press. It can drastically improve your site, increasing your chances of success. With this product, your site can offer both free and premium courses, in order to accommodate as many people as possible.
Academy
Gone are the days when knowledge could only be found in boring, dusty books. Nowadays, a whole new world of virtual learning promises to educate young minds, from the comfort of their own home. Academy is a Word Press theme that is at the forefront of that trend, allowing you to distribute and commercialize your knowledge online.
Do not confuse this for a simple website skin. It is so much more, given that it transforms your standard WordPress layout into a learning management system that facilitates teaching and learning. If you want to experience this theme first-hand, you can access the live preview. It is absolutely free, and you don't have to spend a single penny.
Academy's features make it easy for site owners to create online courses. Some of the most notable additions include a rating system, extended user profiles, the ability to include file attachments, question systems, rating systems, and the inclusion of self-hosted media.  Administrators may also monitor the progress of individual course. Demonetization is simple, due to the implementation of Woo Commerce. Most websites rely on this plugin, in order to create reliable online shops.
Users will enjoy extended versions of their profiles. They will be able to upload pictures, modify profile fields, register, reset their passwords, and keep track of courses.
Skillfully
Skillfully is an excellent WordPress theme for learning management systems. It allows users to establish a top-notch online marketplace that specializes in online courses. You will be able to commercialize lessons and courses, attracting those who crave higher learning. It is possible to hire an entire team of experts, and distribute tutoring services.
There are several class variations, each designed to accommodate the student's schedule and resources. Your page can support a subscription model (with the aid of extensions), a pay per class system, it can be free of charge, or a mixture of all plans. The creators also featured beautiful previews to entice newcomers. These amazing offers are brought to you by Google's Material Design elements. With this theme, e Learning has never been easier.
Moreover, the creators of the theme added a free and premium version of Events Calendar in order to keep track of events. You can also sell tickets via the Woo Commerce Tickets feature. If you want a more hands-on experience, be sure to access the theme demo. It allows you to sample the product, without having to commit to a purchase. Furthermore, users can add several page templates for each of the main site categories. Skillfully is very intuitive, and it does not require any coding knowledge.