Free online English courses develop in collaboration with the British platform Future Learn so that students from any corner of the world can continue to learn English and discover British culture through approaches that go beyond linguistics' the globalized world in which we live, to access a good job or simply to move with ease in the international arena, it is important to know languages.
Among the nearly 7,000 languages ​​spoken in the world, English is the best valued among professionals. This is because it is considered the language of business par excellence, so that its domain allows, business-like, to interact with fluency in all continents.
Currently there are thousands of ways to learn the Anglo-Saxon language, some of them even allow you to do it online and 100% free. Below, we offer you a list of web portals that meet these characteristics. Prepared?
Result of the union of Harvard University and the Massachusetts Institute of Technology (MIT), this digital platform is one of the most prestigious in the dissemination of online courses. Among the whole battery of training programs available, there are some specific for learning and improving English, according to different levels.
Free online English courses with activities
You can learn English on the British Council's free website for adults, which houses hundreds of pages with audio, text and video content and more than 2,000 interactive exercises. Become a member and participate in this site, interact with other users and download free resources.
Free online English courses
on your mobile
The British Council has developed many applications to learn English in different devices such as: iPhone, iPad, Nokia, Samsung, Vi and Android. Applications include podcast, a series, games and exercises that help you improve your grammar, vocabulary and pronunciation.
Easy classroom
With several years of experience in this online training, Aula Fácil does not stop adding students to the free language programs it broadcasts through its platform.
BBC Learning English
And what better way than learning English from the website of the British radio and television station BBC. If you want to get started in basic grammar or improve the understanding of texts and oral conversations, this is a great option.
Go4English
The British Council is one of the most prestigious educational institutions in the world. In addition to generic training in English, it also offers the opportunity to study the language at no cost thanks to its Go4English portal. It has games, tips and tests with which in a short time you will improve your fluency and confidence.
Course-English
With a simple and attractive design in which to navigate, this web portal allows users to choose from a variety of English programs, according to their learning needs: basic level; intermediate; advanced; Business English and vocabulary for traveling are the available categories).
Open Learning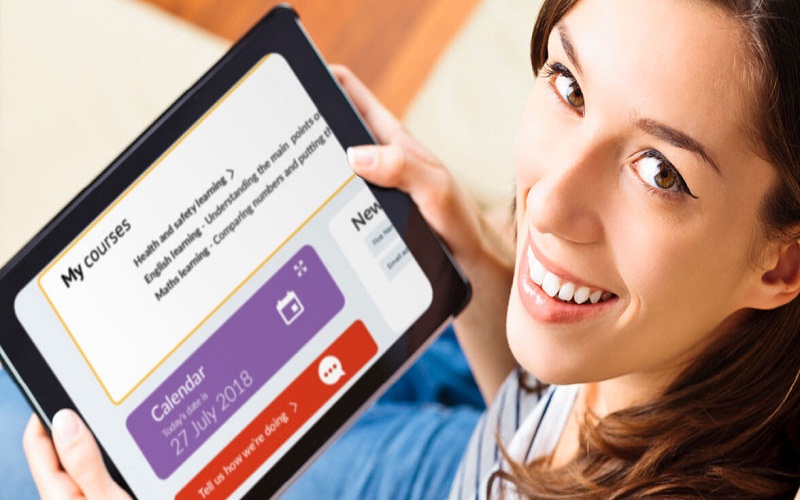 As its name suggests, Open Learning has open training on different topics. It is a community in which users create and teach courses on issues in which they have more knowledge they want to share. Among the number of courses available, there are some of the languages ​​available for free.
Future Learn
It is one of the most recognized in terms of the quality of its courses. It has programs developed by academic institutions in more than 40 countries around the world, including universities and prestigious schools. The English language does not escape the offer of courses that brings together the digital platform.
For students and teachers
Improve your English skills by knowing the life and work of Shakespeare. The course materials include testimonials from experts and actors from different parts of the world, with which you will test your listening comprehension. Discover the universal themes collected in the work of the great playwright, as well as the expressions he introduced in this language and which are still preserved today.
For students
This course is intended for people who want to develop their skills in English to improve their career prospects. Students have access to videos and audio recordings in which the protagonists seek and apply for jobs, prepare and conduct job interviews or start working in an organization with colleagues from different nationals.
Discovering curiosities about British culture in English can be an excellent way to improve your level. This free course invites you to learn the language associated with its context, through topics such as literature, science, entrepreneurship and entertainment. Discover the secrets of modern Britain and see what is true about stereotypes.
For parents and teachers
Languages ​​are not learned alone, especially when we refer to an early stage. In this course for parents and educators, you will discover how children acquire English while developing emotionally and physically. You can also learn the importance of the game when it is promoted in positive environments and some tricks to guide the little ones in their learning process.
For teachers
The teaching of English is going through a period of constant change. Our online course invites you to be up to date with the social, technological and conceptual transformations that are taking place in the profession, inviting you to discover trends around a wide variety of topics, from multimedia learning to multilingualism.
If you want to expand your skills as an English teacher: this is your course. Over four weeks you will discover resources and develop skills with which you can plan your lessons and classes. This MOOC is part of the Teaching for Success: Practices for English Language Teaching program, which delves into the 12 competences included in our professional training framework for teachers .
Language assessment in the classroom
The evaluation of English has been gaining importance in educational policies that are developed around the world. Through this course we want to favor the understanding among the teachers of the different types of evaluation that exist and the way in which they can apply them in class.
How to exercise memory
In our brain there are a series of processes that allow us to learn and recover the information we have assimilated. Memory is not in one place, but many brain regions are involved. It is a broad system of connected neurons (…). In other words, it is the ability to acquire, store and reproduce information. "
Knowing this, it is important to emphasize that the brain functions like a muscle and that, therefore, it can be exercised. There are different ways of doing it. We review some of them in this article:
Create associations. Establish a relationship between what you try to memorize and something already known. For example, to remember dates you can divide the numbers in birthdays or numbers that you can associate.
Create song lyrics with whatever you want to remember. How many times have you thought that I wish I remembered the lesson as well as your favorite song? The solution is easy: choose the melody you like the most and substitute each verse for what you should memorize.
Bet on the traditional. Although new technologies make our lives easier, the truth is that they are also leaving memory in disuse. To avoid this, bet to stop using the GPS or the applications with the bus route. At first
Create stories. This resource is very similar to that of the song, but instead of creating the lyrics associated with a melody, you must invent a story or story whose protagonist is you and the things you have pending.
Do sport. Perform exercise relaxes, eliminates stress and clears the mind, all fundamental states to promote retentive. Therefore, reserve an hour each day to go jogging, dancing, swimming or whatever else you like. Not only will you notice the changes in your body, your physical and mental health will thank you.
Finally, if you want to take an intensive free online English course and study English for a short period of time, this is your opportunity. If you are considering an intensive English course on the Internet, you can take an intensive English course from home and without traveling. You will always have access to all levels, from the most basic to the most advanced, and your progress in the course will depend on the frequency with which you connect and the time you dedicate to each unit.  It's the English class that fits your availability! To start learning English you just have to choose the level that best suits your knowledge or perform our level test to get you there. English is the language of the future and the Internet offers you advantages that you can not find in face-to-face courses. The time has come to learn free online  English course.